5. Understanding users & stakeholders


This service pattern has to work for two main groups of people. Users (people applying for planning permission through a planning service) and also stakeholders (for example, planning officers, who receive these applications). Only these stakeholders can determine what information is needed to determine a planning application, and therefore whether it really is possible to achieve this transformation from documents to data.


Users
Applicants
People looking to apply for planning permission. This includes professional developers, businesses and private homeowners.
Agents
Professionals working for applicants, such as architects, design and build companies or planning consultants.
Customer service staff
Council helpline or helpdesk staff who may sometimes submit an application on an applicant's behalf, either by telephone or in person.
---
Stakeholders
Planning case officers
Planning professionals working within the planning department, receiving and processing planning enquiries and applications.

Planning consultees
Planning professionals working within the planning department or other areas of government with expertise in a particular area (eg heritage), who will input into the assessment of a planning application.
Managers
Senior managers running planning departments.

Data register maintainers
Teams maintaining and publishing national and local data registers such as GIS spatial policy maps, a National Planning Register, the Local Land Charges Database, the Local Land and Property Gazeteer and the London Development Database
Gov planning agencies
Parts of central government with responsibility for / oversight of planning and development control, such as the Planning Directorate and the Planning Advisory Service
---
Types of Planning Consultee
Councillors (general)
Householder
Trees
Heritage / conservation
Building control
Ecology
Community Infrastructure Levy (CIL)
Transport
Housing
Employment
Landscape
Viability
Noise
Environmental health
Transport & highways
Archaeology
Flooding
SUDs
---
Stakeholder research & testing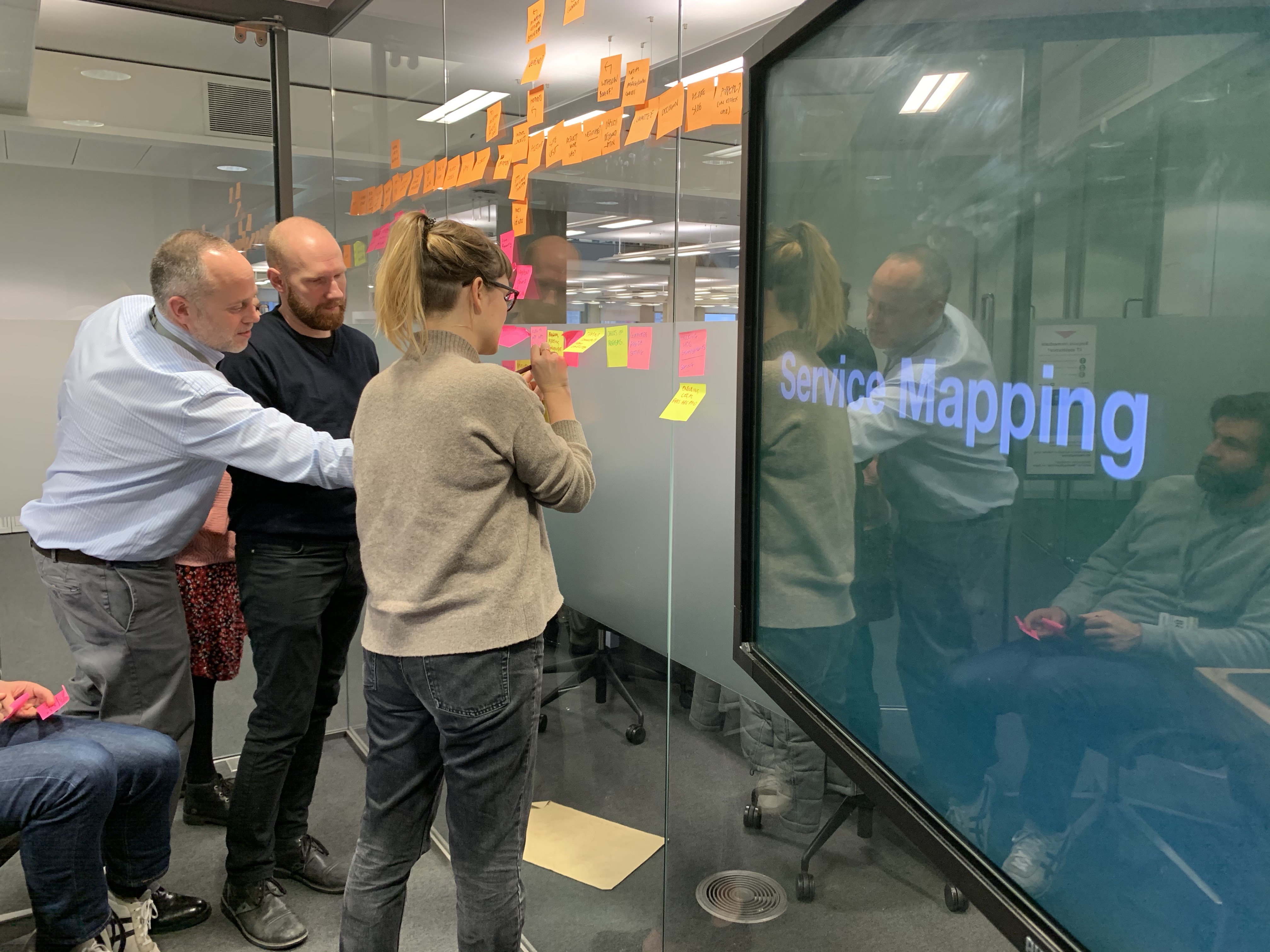 We have been working with planning officers from across 5 councils to understand the planning process as it is today and understand key tasks and pain points. We have produced a collaborative map of the service as it currently is.




You can view and comment on the original live, working diagram here


---
What have we learned?
There are knock-on benefits through the process
Aside from reducing invalid planning applications, submitting planning information as structured data will also have myriad other benefits for planning authorities, making it much easier and faster for officers to process planning applications, and meet reporting requirements.

Site boundaries

Rather than inferring the site boundary from the property boundary, or relying on addresses, it makes sense to ask all users to draw a site boundary.

Unique requirements
Although most information requirements are the same for all councils, some information requirements and rules (for example 'free go' rules relating to the fee) vary from council to council.

---
User research & testing

Before our project began, some excellent discovery-stage user research for planning submissions services was carried out by Snook for Hackney Council, and can be found here.

During Alpha stage, we:

– Surveyed 96 research volunteers on their planning application past experiences

– Conducted 13 usability test sessions with 3 distinct user groups. This comprised 6 agents, 5 applicants and 2 technical officers.

– Iterated and tested 3 versions of the RIPA prototype from paper to digital

– Produced 263 lines of consolidated usability test findings (read them here)

The summary of our user research findings can be found in our Alpha stage project report

(coming soon)




---
What have we learned?
Progress bar
If possible, the progress bar and service steps navigation should be combined, made more visible and repositioned. This will also allow the navigation bar to be smaller.

'Started' not 'In progress'
Use the term 'started' or similar instead of 'in progress' for applications and sections of an application.

Review
A 'review before submitting' step should be added with a prompt to invite an applicant.

Upload stage
Uploading drawings and reports may come as an additional stage.

Unlisted addresses
Create a clear route for properties with no address, or for which the address is not listed.

Download application
After submitting, users should be able to return to view and download their application anytime.

Additional documents upload
Even where asking for data instead of documents, give users the option to upload additional documents if they wish.

Preview stage
If possible, a step could be explored giving users a preview of likely fee and document requirements before they fill-out the application.

---
User stories

As

an applicant

I want to

be told what information is required

so

I can see how much the process will cost



As

an applicant

I want to

spend the least possible amount of time submitting an application

so

I can get on with my life



As

an applicant

I want to

avoid my application being sent back

so

I can avoid frustating delays



As

an applicant

I want to

complete the whole process in one place

so

I don't have to hunt around multiple websites doing research



As

an applicant

I want

the rules of the service to be transparent

so

I can trust it



As

an applicant

I want to

be able to leave and come back to my application

so

I can complete it over multiple sessions



As

an applicant

I want to

be able to share the application with my agent

so they can do some of the work for me

As

an applicant

I want to

be able to see anything my agent has filled in on my behalf

so

I can check that it's correct



As

an applicant

I want to

be able to do some or all of the work myself

so I'm not paying my agent to do something I could do

As

an applicant

I want

to use the same login I use for ot

her council services so

I don't have to remember multiple passwords



As

an applicant

I want

the technical terms to be explained

so

I feel empowered to make informed decisions



As

an applicant

I want

to see where my proposal can better meet policy

so

I can avoid my application for planning permission being refused

(not in alpha scope)



As

an applicant

I want to

be kept up to date about the progress of my application

so

I know it is being processed

(not in alpha scope)



As

an agent

I want

to manage multiple applications at once

so

I can see all my live applications for all my clients



As

an agent

I want

to be able to share the application with my client

so

they can pay the fee



As

an agent

I want

to process any requests for further information as part of the same original application

so

I can keep track of applications more easily

(not in alpha scope)



As

an agent

I want

the process and requirements to be as standardised as possible across all councils

so

I don't have to relearn the process every time



As

an agent

I want

my client to be notified when an application has been successfully submitted

so

I can invoice them



As

an agent

I want

to be able to download my application after I have submitted it

so

I can keep a copy for my records



As

a customer service agent

I want

to be able to access and view a customer's applications

so

I can complete an application if they have already started it




---
Stakeholder Stories

As a planning officer I want to get all the information I need about a proposal so an assessment can be made without needing to request further information

As a planning officer I want it to be impossible to submit an invalid application so I don't have to spend time manually validating applications

As a planning officer I want users to know what planning constraints (eg conservation areas) apply to them so they don't need to call us to ask

As a planning officer I want to spend less time doing data entry so I can spend more time planning

As a planning officer I want applications to come in pre-assessed against policy so I can focus only on key issues (not in scope yet)

As a planning officer I want relevant consultees to be notified automatically so I don't have to (partially in scope)

As a planning officer I want to be able to request further information and attach it to the original application so all the information about a submission is in one place (not in scope yet)

As a planning officer I want to be able to adapt the service to our local requirements as a council so we can respond to particular local priorities

As a consultee I want applications to contain all the information I need to assess them so I can make informed decisions

As a consultee I want a say over which projects are brought to my attention and which aren't so I can apply my time only where it is most needed

As a manager I want to reduce operational overheads so officers can spend more time on actual planning work

As a manager I want analytics and monitoring so I can understand the performance of the service and how to improve it (not in scope yet)

As a manager I want to validate and decide applications within the allotted time so we are achieving our targets

As a manager I want to liberate planning officers from repetitive, de-motivating work so we can retain staff

As a manager I want to increase user satisfaction so I can demonstrate that we're doing a good job

As a manager I want to ensure consistency and quality of decisions so we can avoid appeals

As a manager I want to ensure interoperability with our legacy systems so I can implement changes gradually not in scope

As a data maintainer I want to receive new entries automatically as structured data so they don't have to be manually entered into datasets

As a data maintainer I want to pre-define fields for data so the data we receive is consistent and reliable

As a data maintainer I want to get feedback on inaccurate entries so I can keep data checked and up to date more easily (not in scope yet)

As a government agency I want to promote standards across local government so I can ensure consistency of services