7. The services

Apply for a Certificate of Lawfulness

We are currently testing a service that allows users to submit an application for a certificate to confirm that works they wish to carry out (or have already carried out) do not require planning permission. As well as helping the user to avoid submitting an invalid application, the service also pre-assesses the scheme, and warns the user if it seems likely that the application will be refused.


Find out if you need planning permission

We are currently testing a service called 'Find out if you need planning permission'. This allows users to quickly check whether their proposals are likely to require planning permission in a few minutes, without submitting any application or paying any fees.

This is one of the world's first 'rules as code' planning services.

At the end, the user is guided towards other services they may need, such as 'Apply for Planning Permission'


Shared services


All the services are being developed in a way that allows each Local Planning Authority to customise and control their own service, whilst collaborating with other councils on common parts of the service, so Local Planning Authorities can work together to keep services up to date and to improve them.


---
Standard schemas


The service is underpinned by an evolving series of standard data schemas (structured lists). Wherever they exist we have adopted existing open schemas. Where they do not, we have started new shared schemas. They include:

The Required Information Schema A list that breaks planning information into standard document types and, where possible, the data fields that comprise that document. This, of course, is only possible where it is meaningfully possible to standardise the contents of a document (such as an application form or tree survey).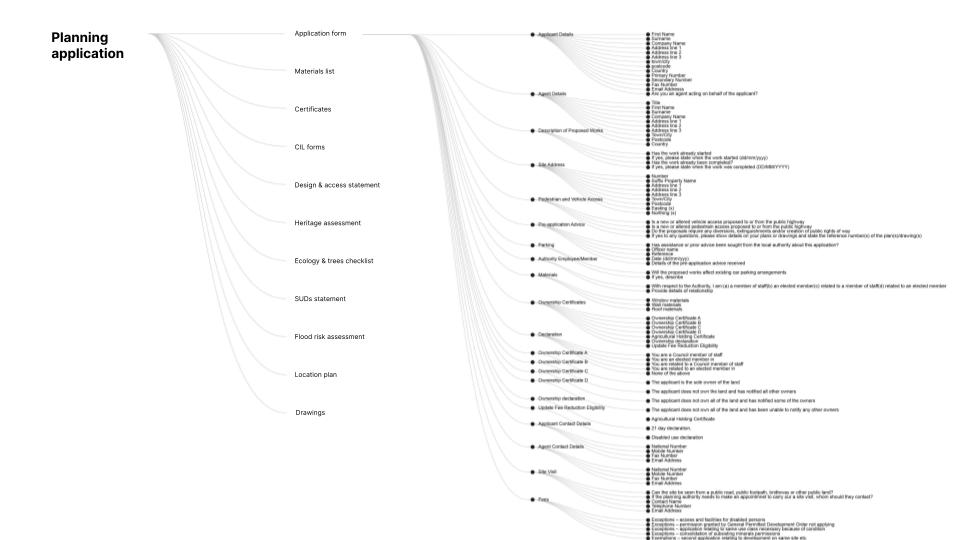 The 'Project Types' schema A continuously evolving list of all the things that people want to do to their properties.


View our live schemas as lists here.


---
The Service Map

The service map shows the full user journey as a flowchart. It is a work in progress. You can view the original here.



There are also a number of sub-sections of the service map for Apply for Planning Permission, also documented as flowcharts. These document the logic of the dynamic forms.

Main Form︎
Design Statement︎
Access Statement︎
Access Form︎
Heritage Area Statement︎
Heritage Building Statement︎
Heritage Adjacency Statement︎
Tree Statement︎
Hedge Statement︎
Flood Risk Assessment︎
Community Infrastructure Levy (CIL)︎



---
The Interactive Mockup


Click here to explore an interactive mockup of the 'Apply for a Certificate of Lawfulness' service.


System Architecture


Below is a diagram of the current technical architecture of the service, running on Plan✕, using Sharedb, Hasura running on AWS and supported by Cloudflare.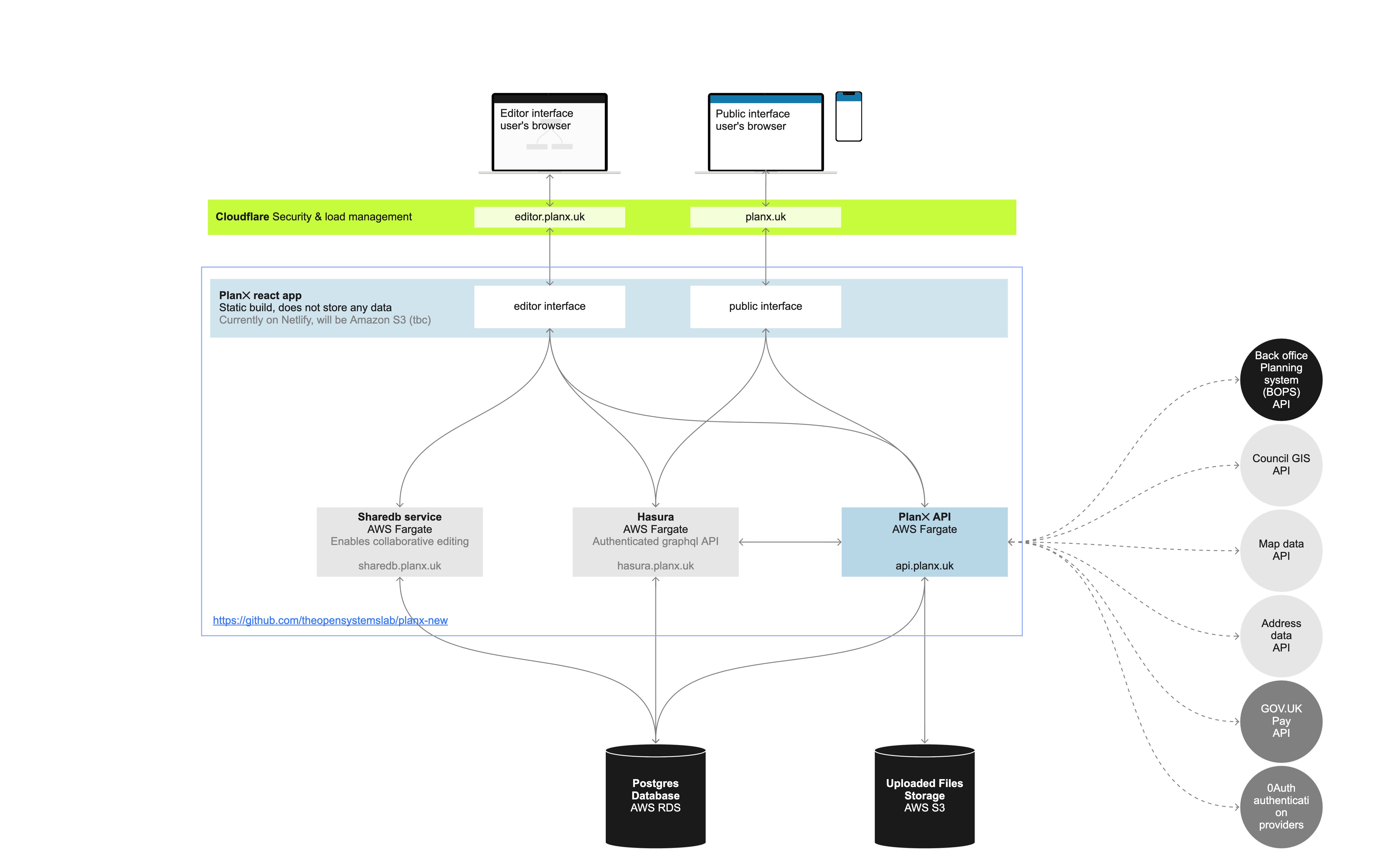 View the code on Github here


---