6. Scope

Services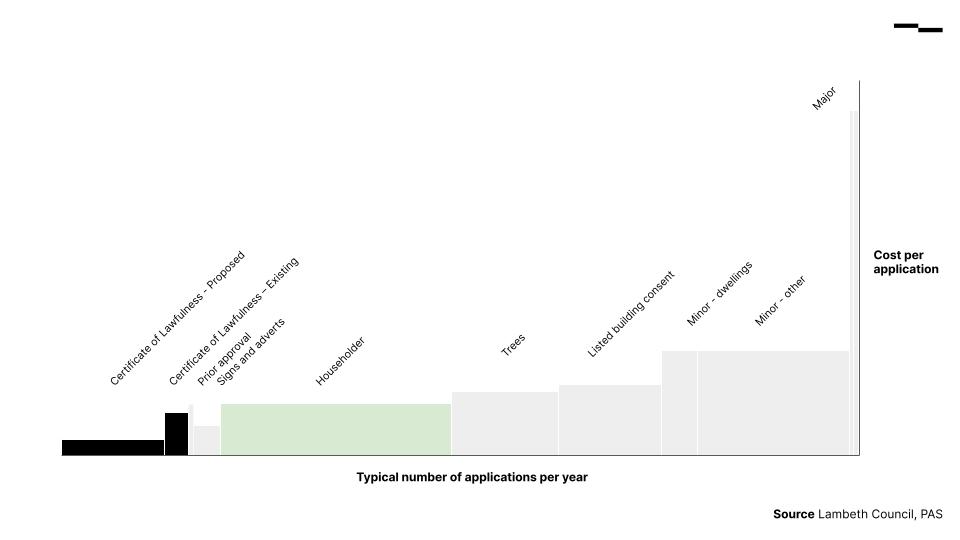 Our end goal is to build digital planning services for every kind of planning application. We are following a 'long tail' strategy: starting with the many small, repetitive applications which represent a disproportionate burden on applicants and councils. Householder planning applications represent the next big milestone.


---
Stages of the user journey




9

Discharge of conditions

10

Monitoring & enforcement



The current project scope includes all stages up to validation. It does not yet include consultation onwards, although this could be part of our future scope.


---
Planning documents

What planning information will now be asked for as data instead of documents, and why?

Forms

| | | | |
| --- | --- | --- | --- |
| | Current status | How often is it required for householders? | Does it require a certified professional? |
| Application form | data | always | no |
| Materials list | data | often | no |
| Ownership certificates | data | always | no |
| Fee | data | always | no |
| CIL forms | data | sometimes | no |
| | | | |
Reports
| | | | |
| --- | --- | --- | --- |
| | Current status | How often is it required for householders? | Does it require a certified professional? |
| Design & Access statement | data | often | no, but sometimes useful |
| Heritage Assessment | data | sometimes | no, but sometimes useful |
| Ecology & trees checklist | data | often | not always |
| Flood risk assessment | data | sometimes | not always |
| Drainage / SUDS statement | data | sometimes | not always |
| Basement impact assessment | doc | sometimes | sometimes |
| Structural survey | doc | sometimes | yes |
| Townscape visual impact Assessment | doc | sometimes | no, but usually useful |
| Navigational Risk Assessment | doc | rarely | yes |
| Air Quality Assessment | doc | rarely | yes |
| Biodiversity Survey | doc | rarely | yes |
| Archaeological Survey | doc | rarely | yes |
| Tree survey / Arboricultural Impact Assessment | doc | sometimes | yes |
| Landscape & visual impact Assessment | doc | sometimes | no, but usually useful |
| Sun & Daylight assessment | doc | sometimes | yes |
| Local views assessment | doc | sometimes | no, but usually useful |
| Parking survey | doc | sometimes | no |
Drawings
| | | | |
| --- | --- | --- | --- |
| | Current status | How often is it required for householders? | Does it require a certified professional? |
| Location plan | data | always | no |
| Existing plans | doc | almost always | no, but must be correctly drawn |
| Proposed plans | doc | almost always | no, but must be correctly drawn |
| Existing elevations | doc | almost always | no, but must be correctly drawn |
| Existing sections | doc | almost always | no, but must be correctly drawn |
| Proposed sections | doc | almost always | no, but must be correctly drawn |
| Existing roof plan | doc | almost always | no, but must be correctly drawn |
| Proposed roof plan | doc | almost always | no, but must be correctly drawn |
| Site plan | doc | sometimes | no, but must be correctly drawn |
| Site photographs | doc | almost always | no |
| Existing details | doc | sometimes | no, but must be correctly drawn |
| Proposed details | doc | sometimes | no, but must be correctly drawn |
| 3D massing model | doc | never | yes |


See the full working schema here


---
Users with specific accessibility needs

| | |
| --- | --- |
| Non-English-speaking users | not yet |
| Users with dyslexia | consider |
| Users with autism | consider |
| Deaf or hard of hearing | consider |
| Visually impaired users | consider |
| Blind users | yes (screen readers) |
| Users with physical or motor disabilities | consider |
| Users suffering from anxiety | consider |
| Elderly users | consider |
| Non-web users | consider |
| Users with outdated devices | yes (as far as possible) |